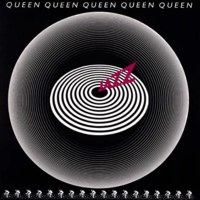 Y seguimos intercambiando balada con canción un poco más marchosa (ideal para sobrellevar el ecuador de la semana). Ésta no pertenece ni a la banda sonora de Los Inmortales ni está en el disco Kind of Magic. Apareció por vez primera en un álbum que fue duramente criticado: Jazz (1978). Nos la presenta Aida:
No es que 'Don't Stop Me Now' sea mi canción favorita de Queen, si no que creo que es una jodida (ups!) masterpiece a la hora de inflar la energía positiva.

'Im burning through the sky yeah!!!' Es una inyección de adrenalina, un chute sólo apto para momentos en los que te llevas por delante todo lo que se te cruza de lo hiperactiva que estás.

No es una canción para alegrar un mal día, no esperéis que os saque
una sonrisa, no tendría sentido porque no es su propósito. Puede que incluso en esos momentos mandéis la cancioncita de marras de vuelta a su mundo de hippies con sobredosis de felicidad por lo contraproducente que pueda resultar.

Pero si alguna vez sentís que os vais a comer el mundo, que todo lo
que os proponéis sale bien y ello os hace feliz, escucharla porque
seguro que Freddie os da un plus de +10 de energía causando una
aceleración difícilmente controlable (yo suelo necesitar ir a correr)
y que si no se digiere adecuadamente puede llegar a ser peligrosa,
so… Consume with precaution.
Si sois unos apasionados de la banda (MaY… te veo haciendo esto 😛 ), podéis marcaros un videoclip de vuestra boda con su propia banda sonora. ¡Simplemente genial! (Y sí, es real como la vida misma…)
Letra:
Tonight I'm gonna have myself a real good time
I feel alive and the world it's turning inside out
I'm floating around in ecstasy
So don't stop me now
don't stop me
'Cause I'm having a good time having a good time

I'm a shooting star leaping through the skies
Like a tiger defying the laws of gravity
I'm a racing car passing by like Lady Godiva
I'm gonna go go go
There's no stopping me

I'm burning through the skies
Two hundred degrees
That's why they call me Mister Fahrenheit
I'm travelling at the speed of light
I wanna make a supersonic man of you

Don't stop me now I'm having such a good time
I'm having a ball don't stop me now
If you wanna have a good time just give me a call
Don't stop me now ('Cause I'm having a good time)
Don't stop me now (Yes I'm having a good time)
I don't want to stop at all

I'm a rocket ship on my way to Mars
On a collision course
I am a satellite I'm out of control
I am a sex machine ready to reload
Like an atom bomb about to
Oh oh oh oh oh explode

I'm burning through the skies
Two hundred degrees
That's why they call me Mister Fahrenheit
I'm travelling at the speed of light
I wanna make a supersonic woman out of you

Don't stop me don't stop me don't stop me
Hey hey hey!
Don't stop me don't stop me
Ooh ooh ooh (I like it)
Don't stop me have a good time good time
Don't stop me don't stop me
Ooh ooh Alright

I'm burning through the skies
Two hundred degrees
That's why they call me Mister Fahrenheit
I'm travelling at the speed of light
I wanna make a supersonic woman of you

Don't stop me now I'm having such a good time
I'm having a ball
don't stop me now If you wanna have a good time
Just give me a call
Don't stop me now ('Cause I'm having a good time)
Don't stop me now (Yes I'm having a good time)
I don't wanna stop at all