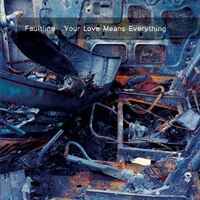 Faultline o David Kosten. David Kosten o Faultline. Tanto monta, monta tanto. Experimentador y productor nato, ha parido dos discos con colaboraciones de gourmet: Closer Colder en 1999 y Your Love Means Everything en 2002. Y en este último sacó dos canciones del mismo nombre que el álbum. La primera sin letra. Tan solo instrumental… pero a la que le sobran las palabras (sería una banda sonora ideal para Twin Peaks).
Y luego la parte 2 de esta misma canción, con la voz de todo-lo-que-toco-lo-convierto-en-oro Chris Martin (por cierto… ojalá se cumplan los rumores de Coldplay en el BBK Live 2011…¡a ver si anuncian ya algún triste grupo!):
Letra:
I slipped away last night
Took me away from sight and the place I know.
All crushed upon my skin
This mess I put you in and the punch I threw.

It was a strange reaction
for someone like you to remain on side
And in a chain reaction
I was down and calling for a place to hide.

I saw a broken arm
Machines will all break down in the way I know.

Mended and all made clean
I saw up on the screen all the stones I throw.

It was a strange reaction
for someone like you to remain so sure
And in a chain reaction
I dissolve and break and then away I crawl.
Then away I crawl.