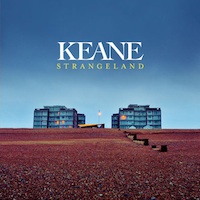 Comienza julio y eso significa que tenemos ya a las puertas el Bilbao BBK Live (a pesar de la decepción que tenemos algunos/as por el cartel de este año).
Toca, por tanto, ir calentando los últimos discos de los grupos que por allí se pasarán: Radiohead, The Cure, Garbage, Snow Patrol, The Kooks, Mumford & Sons, Supersubmarina, Vetusta Morla, …
Hoy es el turno de Keane y su álbum de 2012: Strangeland con este «Silenced By The Night» como primer single del mismo. La escucha del disco no aporta mucha novedad a lo que es el estilo de este grupo. Sin embargo, esta canción entra fácilmente por el oído y se te pega con suma facilidad.
Además, en un blog de silencios, esta melodía silenciada por la noche tenía que hacer presencia.
Letra:
In a city like mine there's no point in fighting
I close my eyes, see you and me driving.
If I am a river, you are the ocean
Got the radio on, got the wheels in motion

[estribillo]
We were silenced by the night,
But you and I, we're gonna rise again
Divided from the light
I wanna love the way we used to then.

I lie in the dark, I feel I'm falling
Feel your hand on my back, hear your voice calling
I'm out of my depth girl, stick close to me,
Because the people in this town, they look straight through me

[estribillo]

'cause baby, I'm not scared of this world when you're here
And baby, I'm not scared of this world when you're here…

Ohhh, you and I, we're gonna rise again
Ohhh, you and I, we're gonna rise again

[estribillo]