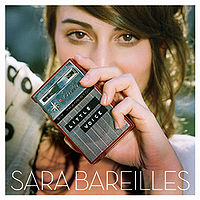 Hacía mucho que no daba rienda suelta a mi vena moña, así que hay que ponerle fin a la sequía ;-). Y qué mejor manera que con esta tremenda canción cuya letra es más que representativa: la gravedad que algunas personas ejercen sobre nosotros no nos deja actuar como realmente somos. Y sin embargo, es muy difícil salirse de esa inercia. Así que se permite cantar a grito pelao el estribillo pidiendo que nos liberen ;-).
Este single dio nombre a la gira que llevó a cabo Sara en 2009 para promocionar su disco Little Voice (del que ya extrajimos su conocido Love Song). Increíble cómo se desenvuelve con el piano:
Letra:
Something always brings me back to you.
It never takes too long.
No matter what I say or do
I'll still feel you here 'til the moment I'm gone.

You hold me without touch.
You keep me without chains.
I never wanted anything so much
than to drown in your love and not feel your reign.

[estribillo]
Set me free, leave me be.
I don't want to fall another moment into your gravity.
Here I'm and I stand so tall,
just the way I'm supposed to be.
But you're on to me and all over me.

You loved me 'cause I'm fragile.
When I thought that I was strong
you touch me for a little while and all my fragile strength is gone.

[estribillo]

I live here on my knees as I try to make you see that you're everything I think I need here on the ground.
But you're neither friend nor foe though I can't seem to let you go.
The one thing that I still know is that you're keeping me down
Keeping me down…

Something always brings me back to you.
It never takes too long.