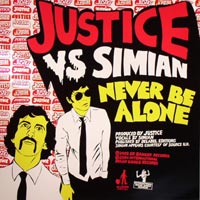 No soy nada seguidora de la música electrónica, pero esta canción se me ha metido en la cabeza y no hay manera de sacarla. Es una remezcla de dos franceses: Gaspard Augé y Xavier De Rosnay (Justice) del mítico Never Be Alone de Simian.
No perdáis detalle del videoclip, porque muestra la mejor forma de despertar a tus amigos tras una noche de borrachera. Con gente así, ¿para qué tener enemigos? Empezad bien el fin de semana y cuidadito con vuestras resacas y vuestros supuestos amigos… 😉
Aquí la versión original de Simian:
Letra:
Because we, are, your friends.
You'll, never be alone again.
Well c'mon.
Well c'mon.
Well c'mon.
Well c'monnnn.