Una vez por semana abro el blog para publicar vuestras recomendaciones. Por riguroso orden de llegada, irán apareciendo en este rinconcito. Y el más veloz y criticón con mis gustos 😛 ha sido MaY. Así que abre fuego. Os dejo con él: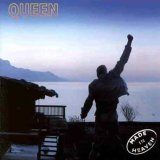 La teoría dice que una balada da la verdadera medida de un grupo de rock. Que pasar de un ritmo trepidante a un medio tiempo marca la diferencia de los buenos músicos que conformen el grupo. Esta teoría es válida para TODOS los grupos, excepto Bon Jovi (que siempre ha hecho baladas y ahora es cuando le empieza a gustar la caña) y Scorpions (que siempre han hecho baladas, y muy
buenas, por supuesto).
Mi favorita, originalmente de Brian May (Back to the Light, 1992), y grabada por Queen antes del fallecimiento de Freddie Mercury (Made In Heaven, 1995), es Too Much Love Will Kill You.
Letra:
I'm just the pieces of the man I used to be
Too many bitter tears are raining down on me
I'm far away from home
And I've been facing this alone
For much too long
I feel like no-one ever told the truth to me
About growing up and what a struggle it would be
In my tangled state of mind
I've been looking back to find
Where I went wrong
Too much love will kill you
If you can't make up your mind
Torn between the lover
And the love you leave behind
You're headed for disaster
'cos you never read the signs
Too much love will kill you
Every time
I'm just the shadow of the man I used to be
And it seems like there's no way out of this for me
I used to bring you sunshine
Now all I ever do is bring you down
How would it be if you were standing in my shoes
Can't you see that it's impossible to choose
No there's no making sense of it
Every way I go I'm bound to lose
Too much love will kill you
Just as sure as none at all
It'll drain the power that's in you
Make you plead and scream and crawl
And the pain will make you crazy
You're the victim of your crime
Too much love will kill you
Every time
Too much love will kill you
It'll make your life a lie
Yes, too much love will kill you
And you won't understand why
You'd give your life, you'd sell your soul
But here it comes again
Too much love will kill you
In the end…
In the end.