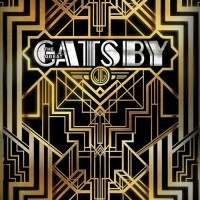 Que juntes en una banda sonora a Florence + The Machine, The xx, Jack White, Gotye, Sia, Lana Del Rey, Bryan Ferry, … hace llorar de alegría a la que escribe. Ese es el caso de la banda sonora de El Gran Gatsby (2013), un auténtico lujo.
Desde que la escuché por vez primera, la tengo en modo bucle sin parar en mis reproductores y me ha costado horrores seleccionar una única canción para romper el silencio. Muy pegadizo el "Hearts A Mess" de Gotye (no puedo evitar ponerme a silbar el estribillo instrumental). La aportación de The xx está muy en su línea: tranquilito y orquestal. Escuchar algo nuevo de Florence + The Machine es siempre una alegría, pero si además en la edición deluxe de la banda sonora te aportan otra versión con SBTRKT, mejor que mejor. Lana Del Rey es muy Lana Del Rey con su single "Young and Beautiful". También podemos encontrar una versión peculiar del "Back to Black" de la difunta Amy Winehouse perpetrada por Beyoncé y André 3000.
Pero finalmente me he decantado por esta canción de Sia por dos razones: la primera y más obvia, porque me ha gustado (aunque a veces la confundo con Lana Del Rey…); la segunda, porque me parece increíble que esta Midas de singles aún no se hubiera pasado por aquí. Habitual colaboradora de DJs y otras especies para poner voz a sus creaciones (David Guetta, Flo Rida, Afrojack, Shakira, Christina Aguilera, Rihanna, …) también sabe hacer perlas ella sola como es el caso de "Breathe Me". Seguro que algún silencio más cae de su cuenta.
Letra:
Watching the sequence of sounds coming out of your mouth
But the snow is too loud
Follow the hands as they move
Trying to make out your mould
But your brain doesnt want to

[estribillo]
Hi, close the door, silent cold
For you
What have I done to you

Kill and run
Kill and run
I'm one of the dirty guns
Kill and run
Kill and run
A bullet through your heart

Interpret your eyes as they die
Should I die should I now
Your poor lashes blow
We've done of sancturary laugh
You cry all over
An innocent call

[estribillo]