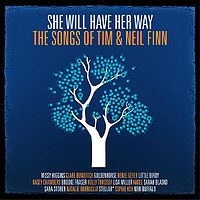 Crowded House es una de esas bandas míticas que se ha ganado muchos discos de homenaje. En uno de ellos, esta versión me ha conquistado. La canción original es ya un clásico, pero escucharla envuelta en una voz femenina me ha decantado a publicarla aquí.
De la banda neozelandesa poco se puede escribir nuevo (os recomiendo esta biografía). La formaron en 1985 dos hermanos (Tim y Neil Finn). Y veinte años más tarde se grabó el disco homenaje «She will have her way – The songs of Tim & Neil Finn» (2005). Un tributo de cantantes australianas y neozelandesas a los temas que los hermanos habían escrito para su grupo u otros. Está gente de la talla de New Buffalo, Natalie Imbruglia, Lisa Miller, … y nuestra protagonista: Clare Bowditch, que también tiene otra versión de Hallelujah. La podemos escuchar sola o acompañada de su banda Feeding Set.
Me tienen rendida a sus pies ;-).
Letra:
I'm really close tonight
And I feel like I'm moving inside her
Lying in the dark
And I think that I'm beginning to know her
Let it go
I'll be there when you call

[estribillo]
And whenever I fall at your feet
Do you let your tears rain down on me
Whenever I touch your slow turning pain

You're hiding from me now
There's something in the way that you're talkin'
Words don't sound right
But I hear them all moving inside you
Go now
I'll be there when you call

[estribillo]

The finger of blame has turned upon itself
And I'm more than willing to offer myself
Do you want my presence or need my help?
Who knows where that might lead
I fall

And whenever I fall…

The finger of blame has turned upon itself
And I'm more than willing to offer myself
Do you want my presence or need my help?
Who knows where that might lead
I fall at your feet