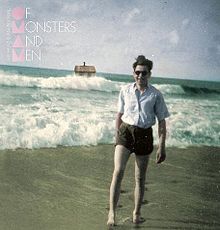 Como ponía en las redes sociales ayer: «2012 Game Over. 2013 Insert coin«. Estas navidades no he tenido tiempo de hacer recopilatorios varios, así que os caerán todos hoy. Por un lado, analizar los grupos que más se han pasado por mi reproductor en 2012 (gracias al scrobbling de last.fm): Florence + the Machine, Vetusta Morla, Lana Del Rey, Coldplay, Ruidoblanco, Amaral, Foals, Ladyhawke, The xx, Band of Horses, Shearwater, Gotye, Mumford & Sons, Metronomy y Russian Red. Una buena señal que todos cuenten con su respectivo silencio (algunos incluso cuentan con más de uno).
En cuanto a música en vivo, 2012 ha sido de lo más ecléctico. Por un lado, la cita ya ineludible del BBK Live (que se repetirá este 2013 si algún evento más importante no lo impide). Me quedo además con el conciertazo de Wilco en el Euskalduna.
Este blog cuenta con 412 silencios publicados, 1993 comentarios rompiendo ese silencio, una lista en spotify con 489 suscriptores y más de 21 horas de música sin interrupciones. Además, en marzo de 2013 cumplirá cinco añitos en los «Interneses».
2013 se presenta como un año cargado de silencios y, por supuesto, de mucha música. Así que para entrar bien en este nuevo año, nada como esta canción de Of Monsters And Men, una banda islandesa que tiene que soportar a sus espaldas el san benito de que se les conozca como los nuevos «Arcade Fire». Little talks fue lanzada como sencillo principal de su álbum debut, My head is an animal (2012). ¿Soy la única a la que las voz de Ragnar (el cantante) se le parece a la de Oliver Sim (cantante de The xx)?
No os perdáis el videoclip, porque es una obra de arte. Por cierto: ¡Feliz año nuevo! Urte berri on!
Letra:
I don't like walking around this old then empty house
So hold my hand, I'll walk through my dear
The stairs creak as I sleep, It's keeping me awake
It's the house telling you to close your eyes

Some days I can't even trust myself
It's killing me to see you this way

Because though the truth may vary this
Ship will carry our bodies safe to shore

There's an old voice in my head that's holding me back
Well tell her that I miss our little talks
Soon it will be all over,
And buried with our past
We used to play outside when we were young
And full of life and full of love

Some days I don't know if I am wrong or right
Your mind is playing tricks on you my dear

Because though the truth may vary this
Ship will carry our bodies safe to shore

[estribillo]
Don't listen to a word I say
The screams all sound the same
Though the truth may vary this
Ship will carry our bodies safe to shore

You're gone, gone, gone away
I wish you'd disappear
All that's left is a ghost of you
Now we're torn, torn, torn apart
There's nothing we can do
Just let me go, I mean against you

Now wait, wait, wait for me
Please hang around
I see you when I fall asleep

[estribillo]