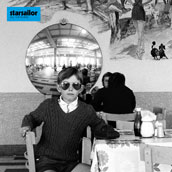 Hoy he escuchado lo nuevo de Starsailor, All the Plans y no he podido quitarme de la cabeza esta canción. Ya tuvimos por aquí a esta banda inglesa con su archiconocido Four To The Floor. Para el cuarteto comandado por James Walsh éste ya es el cuarto disco en el mercado. Además os traigo en exclusiva la versión a dúo con Brandon Flowers (The Killers).
La letra de la canción, como siempre, acompaña mi día a día. Hace poco sentía en mis carnes la peor sensación que existe: la decepción. El cabreo se me suele pasar rápido. La decepción es algo que persiste, que cambia las cosas. Me decían que la culpa era mía, por confiar en quien no se lo merecía. Supongo que tendrán razón, pero es que el ser humano es el único que tropieza dos veces con la misma piedra y se intenta convencer una y otra vez de que las cosas no se han acabado.
Me quedo con All my old war stories take me back again. Vivo en el día de la marmota.
Letra:
Thought I'd lost you once again
All that drink had brought some trouble to our name
Late at night I feel no shame
All my old war stories take me back again

Now the lights out
I discover
She is sleeping with another
Tell me it's not over

What a place to seal your fate
A deserted car park
Not even a date
Please don't tell me it's too late
If you love someone
Don't throw it all away

Now the lights out I discover
Just a weekend
Undercover
Tell me it's not over

Tell me it's not over
Tell me it's not over

Now the lights out
I discover
Just a weekend
Undercover
Now the lights out
Well I discover
She is sleeping
With another
Tell me it's not over