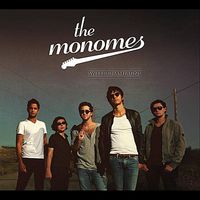 Semana movidita en el plano musical. Si empezamos saltando de alegría tras la confirmación de que Radiohead estará en el BBK Live 2012 (otra banda a escuchar por fin en directo :-)), terminamos aún mejor con un concierto el sábado en petit comité (no estaríamos ni 30 personas) de una banda que suena muy bien en directo: The Monomes.
Banda joven, aunque éste es ya su segundo álbum (Sweet Champagne, 2011) y han tocado en sitios de envergadura como el Rock in Rio Brasil 2011. Recomendable verles y escucharles ;-).
Y de puntillas empieza una nueva semana mientras otra termina.
Letra:
Traffic lights stop, start, and go
Shallow paths made of soft walls
Hide and run, where else to go?
Hit and fall my leaking soul
Silhouettes of thoughts
knocking on my door
Where my goals are set to blow

[estribillo]
Let me rekindle my throne
Trumpets will welcome me home
Dropping the walls and I'm gone
Come take me away
Here I go again

Crying morning
in my new rose garden
Sugar-coated sunlight
warming up my dreams
I'm dodging bright blue flowers
dancing 'round my knees
While I start tip toeing in paradise

Shift the gear and go again
Left or right stoically mundane
Feeling the aim upon my chest
undo my knot and prepare to rest

[estribillo]

Traffic lights stop, start, and go
Hide and run, where else to go?