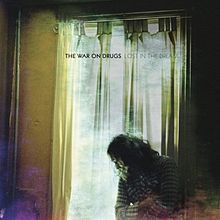 Los bloqueos de silencio en este blog cada vez son más largos. Hoy es 3 de mayo y aparece por fin el primer post de este año.
Mucho tiempo… pero así es el discurrir de este rinconcito digital, que no sucumbe a las prisas de la era digital que nos ha tocado lidiar. De hecho, hoy rompo la afonía con una melodía que dura más de 7 minutos y a la que le cuesta explotar… pero prometo que lo hace, solo hay que tener paciencia. Así es In Reverse, una pequeña joya que se esconde entre otras muchas en Lost in the Dream (2014). Y es que este álbum está cargado de calidad (Red Eyes, Under The Pressure, …). Si no conocíais a The War On Drugs, su disco merece una escucha (aunque estoy convencida de que serán muchas más).
No prometo con esto volver a recuperar el ritmo. Eso es lo que me encanta de este blog: que él me dicta cuándo está listo para volver a salir. Sin presión. Y pocas cosas hago ya sin esa presión (interna o externa).
Letra:
You've been out in the street
Talkin' about the war with me
And the background is at night
Don't want to hesitate
Will they tell me where you're hiding?
But through the haze there's no one there
Wondering if you care
Callin' your name in the darkness

When I'm done with my time here
I'm going to keep staying strong
Through the railways
But I never mind going
And I realize now that the road is bare
And I hear it all through the grand parade

And I don't mind you disappearing
'Cause I know you can be found
Maybe livin' on the dark side of the street, damn
When we're livin' in the moment and losing our grasp
Making it last with the grand parade in our past

Sometimes I wait for the cold wind to blow
As I struggle with myself right now as I let the darkness in
But I don't mind chasing you through the backways for the keys
It evaporates and fades like a grand parade

And I don't mind you disappearing
When I know you can be found
When you're livin' on the dark side of the street, damn
We're just livin' in the moment, making our path
Losin' our past through the grand parade

I'll be here or I'll fade away
Never cared about moving
Never cared about now
Not the notes I'm playing
Is there room in the dark
In between the changes?
Like a light that's drifting
In reverse, I'm moving