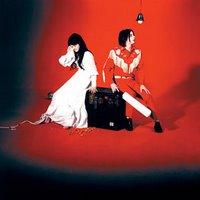 Tras escuchar la canción que ha hecho Jack White junto a Alicia Keys para la última aventura de 007, Quantum of Solace, me he percatado que aún no había puesto nada de The White Stripes en este blog.
Así que nada mejor para remediarlo que con este Seven Nation Army. Sacado de su disco más exitoso, Elephant (2003), es una vuelta al mejor garage rock de los 60. Hoy, el día de los derechos humanos, toca luchar como un único ejército de las siete naciones contra todas las injusticias que nos siguen rodeando.
Por cierto, que este videoclip me ha recordado un poco al de The Ting Tings.
Letra:
I'm gonna fight 'em all
A seven nation army couldn't hold me back
They're gonna rip it off
Taking their time right behind my back

And I'm talking to myself at night
Because I can't forget
Back and forth through my mind
Behind a cigarette

And the message coming from my eyes
Says leave it alone

Don't want to hear about it
Every single one's got a story to tell
Everyone knows about it
From the Queen of England to the hounds of hell

And if I catch it coming back my way
I'm gonna serve it to you
And that aint what you want to hear
But thats what I'll do
And the feeling coming from my bones
Says find a home

I'm going to Wichita
Far from this opera for evermore
I'm gonna work the straw
Make the sweat drip out of every pore
And I'm bleeding, and I'm bleeding, and I'm bleeding
Right before the lord
All the words are gonna bleed from me
And I will sing no more
And the stains coming from my blood
Tell me go back home