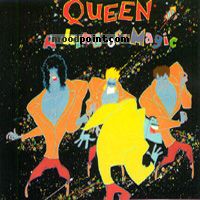 Exacto: después de una canción movidita… toca una balada (y por supuesto, que aparezca en la banda sonora de Los Inmortales y en el álbum A Kind of Magic). En esta ocasión Sahib y Jokin nos recomiendan la sintonía que abre la película. Como véis, habrá sido un disco maltratado por la historia, pero de cinco recomendaciones que llevamos, tres son suyas). Como incentivo, gusta ver el mini-duelo entre Christopher Lambert y Freddie Mercury 😀 .
Sahib:
Humm, no voy a dudar esta vez: Princes of the Universe. Canción con la que empieza la película Los inmortales. una canción que se define con una única palabra: Energía. Emana energía en cada una de sus notas. Emana fuerza en cada una de sus palabras. Todavía recuerdo de pequeño en el cine (6 añitos) preguntándome de quién era esta canción, porque estaba claro que me iba a acompañar durante mucho tiempo en mi cabeza.
Lups:
Contar lo mío con Queen es como contar la historia de mi vida. A mi madre le encanta y coincidió mi infancia con la época que mi madre más los escuchaba. No había día que no estuviese alguna cinta de ellos sonando en el radiocassette de la cocina y yo deambulaba por allí. Desde entonces, me han acompañado a lo largo de mi vida.

Pero bueno, ya vale de hablar de mí y hablemos de Princes of the universe. Esta canción fue un descubrimiento tardío, no la recuerdo de pequeño, sino ya en la época que empecé en la universidad. Cuando descubrí kazaa y las canciones tardaban una eternidad en bajarse. Me gusta está canción porque recoge la esencia de lo que es Queen, tiene unos cambios de ritmo que mueven algo dentro de mí de manera indescriptible y a su vez tiene momentos dulces. Además, me gusta porque no es «la típica canción de Queen» que todo el mundo conoce, aunque aparezca en la banda sonora de «Los Inmortales» y en el disco «A Kind of Magic».

Siempre digo que la mejor manera de hablar de música es escucharla, así que sin más os dejo con lo que para mí, es la mejor canción de Queen.
Letra:
Here we are, born to be kings
We're the princes of the universe
Here we belong, fighting to survive
In a world with the darkest powers

And here we are, we're the princes of the universe
Here we belong, fighting for survival
We've come to be the rulers of you all

I am immortal, I have inside me blood of kings
I have no rival, no man can be my equal
Take me to the future of you all

Born to be kings, princes of the universe
Fighting and free
Got your world in my hand
I'm here for your love and I'll make my stand
We were born to be princes of the universe

No man could understand
My power is in my own hand
People talk about you
People say you've had your day
I'm a man that will go far
Fly the moon and reach for the stars
With my sword and head held high
Got to pass the test first time
I know that people talk about me – I hear it every day
But I can prove them wrong 'cos I'm right first time

Alright, let's go, let's go
Yeah, watch this man fly
Bring on the girls – c'mon – c'mon – c'mon

Here we are
Born to be kings, we're the princes of the universe
Here we belong
Born to be kings, princes of the universe
Fighting and free, got your world in my hand
I'm here for your love and I'll make my stand
We were born to be princes of the universe