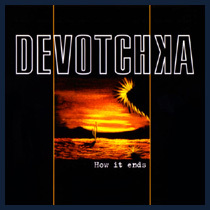 Esto es un post programado, es decir, cuando leáis esto, yo estaré (o eso espero…) de vacaciones desconectadas (lo que no quiere decir que luego no lea vuestros comentarios, así que no seáis vagos 😉 ). Y para relajarme en estos días seguro que escucharé este temazo que han seleccionado para el nuevo anuncio del juego Gears Of War 2. Tienen buen ojo estos chicos, porque si para la primera edición usaron Mad World de Gary Jules (pronto caerá también por aquí), ahora han seleccionado a DeVotchKa, un grupo de indie rock de Denver que fusiona sonidos griegos, romanís, eslavos, boleros, mariachis, … todo un mestizaje musical. Ojalá la globalización tuviese siempre este efecto.
Es curioso como para anunciar algo belicoso hacen uso de una música tan relajada. Podéis encontrar la canción en la banda sonora de Pequeña Miss Sunshine (2006), en la de Everything Is Illuminated (2005) y en el disco homónimo de la banda (2004).
Letra:
Hold your grandmother's Bible to your breast.
Gonna put it to the test.
You want it to be blessed.
And in your heart,
You know it to be true,
You know what you gotta do.
They all depend on you.

[estribillo]
And you already know.
Yeah, you already know how this will end.

There is no escape,
From the slave-catchers' songs.
For all of the loved ones gone.
Forever's not so long.
And in your soul,
They poked a million holes.
But you never lettem show.
C'mon it's time to go.

[estribillo]

Now you've seen his face.
And you know that there's a place,
In the sun,
For all that you've done,
For you and your children.
No longer shall you need.
You always wanted to believe,
Just ask and you'll receive,
Beyond your wildest dreams.

[estribillo]

You already know
You already know
You already love will end.